Black Swans, Micromanagement, and Virtual CEOs - the reality of leading a Charity throughout a global pandemic.
By Suzanne Watts, Wilmington Charities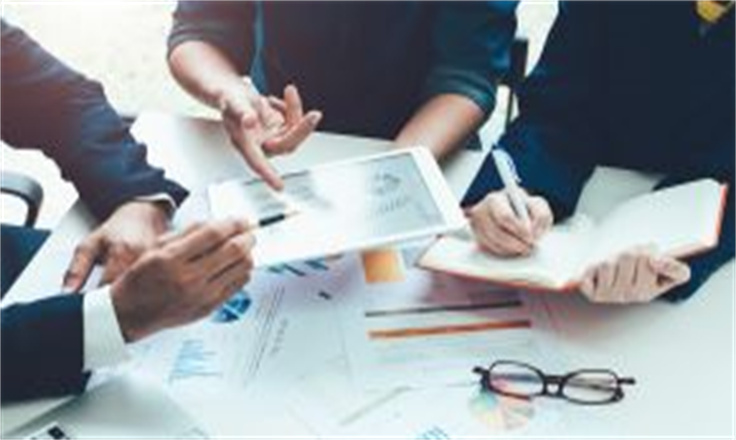 When we ran our first ever Charity Financial Leaders Forum in February 2020, not one of the experienced Charity CEOs or FDs in that conference room in central London could have begun to imagine the year of change, disruption and challenge that lay ahead. The biggest worry on the horizon was Brexit.
On 3rd March 2021, our second annual Forum took place in a very different reality. One year into a global pandemic, charity leaders have navigated their organisations through the greatest period of upheaval seen since world war two. With the sector experiencing severe financial struggles, redundancies, teams of staff furloughed and out of action, and many of the traditional, core fundraising options off the table – there has never been a greater need for strong, clear leadership, and an agile, innovative mindset.
Martin Miles, CFO of British Heart Foundation, launched the day's discussion with his keynote on the realities of being a charity finance leader during this era, starting off with highlighting the change to everyday life:
"Every aspect of the personal and professional life has been mixed up throughout this – we are all in this together". The predictions on how severely the pandemic would hit his charity were grim from day one: "The stark reality is this crisis is all about liquidity and cash for the charities. "Our early predictions for the income we would lose due to the pandemic - £30 m in Q1, then £10m per qtr. These early predictions proved to be actually quite accurate. The effect of Covid for us will mean that income levels won't be stabilized for 3 years".
Martin concluded with a reminder to charity leaders to look after their own wellbeing during this challenging period - "As a leader, you have a responsibility to look after yourself – often other people can't see how hard we're paddling"?
The contrast of leadership styles that emerged during the crisis was the main feature of our first panel discussion. Sue Hall of Historic Royal Palaces explained how she had instilled a micromanagement approach at her charity, so to get a precise grip on their day-to-day finances when external income had all but dried up. "We (the leadership team) had to be very honest and say we didn't know what the future held, and we don't know what all the answers were – and this approach requires trust from all sides". To manage cash flow when income had stalled, Sue and her team kept a very watchful eye on the bank balance: "Cash became something we had to look at very closely – before the pandemic our cash flow was not that detailed. The CEO and I now know the daily total of cash in our organisation". The charity now has a 14-year plan to pay back a £40 million government loan once their venues reopen and tourism can restart in the spring and summer of 2021.
Catherine Woodhead of Muscular Dystrophy led a lightening quick reaction to change once the pandemic struck – putting into place special teams, extended hours and a worst-case scenario of the year ahead "By 23rd March 2020 we knew we would have at least a 40% reduction in income and we predicted the crisis would block income for at least 8 months. Our immediate focus was to reduce spend and cancel all events, then we asked all staff to take 20% reduction in both salary and hours". Personally, Catherine started work at 4-5am each day to get through this survival period, although things have returned to a more usual working day since last spring.
Craig Duncan's experience at Hospice UK has been vastly different. Early on after March 2020, the charity – that was in charge of distributing PPE, funds, online learning, and extra support for care staff affected by the pandemic - had a sudden 40-fold increase in income. Turnover rocketed from £6m to £270 million. The crisis helped them focus their vital priorities – keep enough money in the system, keep hospices open, retain enough staff. "Throughout all this we were thinking all the time about clear communication across the whole organisation – in order to keep the whole process moving forward and getting supplies where they needed to be and supporting staff wherever and whenever possible".
A "Black Swan" event was something that organisations may have prepped for but hoped would never actually happen. Simon Hopkins of Blind Veterans revealed how his charity, with a risk aware senior team, had been several steps ahead of many in the sector by role-playing through crisis scenarios, long before Covid 19 raised its head. "Black Swan events can be managed better in a resilient organisation. Finance leaders must be at the centre and forefront of strategy – and be relentless until it happens."
When the pandemic did strike, the charity was able to move quickly and decisively to put into action the necessary measures to ensure minimal disruption of services. Charities can't really plan for crisis when it's happening – that's already too late. Simon warned that the future was unstable, and we should all embrace ambiguity – "There is no normal seven-year economic cycle anymore. Black swans are not once in a generation - extreme volatility is the new norm - so we have to rethink old management and leadership techniques" Simon noted that the context of what makes a strong successful leader has changed, with a shift away from a list of standard deliverables to a role that includes emotional resilience and wellbeing. "I like the leader I have become today – compared to where I was two years ago - as I've now got the balance right".
Although being prepared for crisis is incredibly useful, at some point it is time for charities to move forward and rebuild after the storm. Nigel John Armitt, who advised the board of Amnesty International during the pandemic observed "It is time to move your charity away from panic mode. Weaning your board and trustees off the need for frequent, over detailed meetings, and back onto some sort of normal footing, so that they can move on with the usual business of the charity. If ever there was a time when we can fundamentally look at the business model of any business – it is now".
Pesh Framjee of Crowe called for charity leaders to be bold, quick thinking, and not afraid to make mistakes during a period when little was certain: "You don't want to a have your board confused by a whole plethora of scenarios. Scenarios are not the same as forecasts. The time for two-day strategic workshops has passed. Much faster action required. Governance and decision making has changed too – boards need to be nimbler and more empowering. Just get on with doing what they should do – and do it fast".
Prior to when the virus started to wreak havoc on the sector, there were two other revolutions going on. Technological and online communications and entertainment and the great green revolution – with environmental awareness at an all-time high. Then Covid 19 came along –and the sudden economic crisis pushed aside green issues. In the midst of this global crisis, it can be easy for charity leaders to put aside or lose focus of longer-term goals and problems - one of which being a focus on making charities investment strategies more environmentally sound.
John Redwood, Global Investment Manager of Charles Stanley underlined the need for a return to the green agenda - "This year several things come together. The American led climate change conference, the COP in Glasgow and G7, will combine to refocus charity investment managers minds. Announcements on the regreening of the economy - moving closer to net zero, lowering carbon emissions, attitudes to aviation, how we heat our homes, and what we produce and how we travel – will take centre stage once the economic bounce back spreads across the globe".
In a year that has seen massive disruption to the regular business of charities, Liam Heffernan of The Brain Tumour Charity highlighted that innovation and agility within a finance team can sometimes be about doing things differently and fixing the small details. He undertook a long list of small fixes – such as changing the level of authority matrixes so that managers could sign for greater amounts – saving time and effort across the charity - all of which led to a smoother, and increasingly more efficient finance function in the midst of a year of chaos.
Patrick Fleming sketched out the scenario at his charity the Jubilee Sailing Trust (JST) – "Suddenly, in March 2020 our revenue model ended. We had just 35 days – the time it took our main sailing ship to return from Antigua – to reposition the charities income model". JST requires £2.5 m a year to run its team of 45 staff with 75% of this income traditionally coming from fundraising – all of which had stopped.
An opportunity and lifeline came from the Royal Navy, who needed sailing ships to train their new recruits, and JST won the tender for this – and were able to be agile and jump at this chance as quickly as Covid secure measures and MOD risk assessments would allow. A recent beneficiary of the sailing trust wrote that the JST delivered the ability "to belong to something bigger than yourself" - which is very much the mantra for Patrick and this inspirational charity.
Our final panel of the form explored the personal toll of leading a charity during the past year – and the attributes needed to stay positive and human throughout the crisis. Kate Bratt Farrer of Heart Research wanted to avoid a return to the siloed and conservative nature of her charity before the pandemic. "We quickly put daily afternoon catch ups into the diary, so as to stay in touch with each other, and I gave our managers the freedom to expand and work on their own fundraising ideas. It feels like we have really come into our stride as a team during this crisis". Kate was keen to recognise extra effort and success across her teams by sending thank you cards, organising online staff drinks, and recognising the personal pressure everyone was under. "It's been difficult for everyone in different ways. The emphasis is on getting the job done – the number of hours or when they work is irrelevant to me. We've all hit a wall at various points, but we've kept each other going throughout this very rubbish year".
Anna Perry of Great Western Air Ambulance had taken a moral stance that her charity should not be asking for emergency funds, when others in the sector were in a far more dire positions – as they had almost a year of reserves in store to use during 2020. Reliability remains as their central campaign message – "During this highly uncertain time, I wanted the charity to give out a sure and steady message – with no compulsory furlough, and the work of the team remaining as consistent and close to normal as possible. Team meetings were at the same time as before, with even a visit to virtual pub afterwards". Braveness and steadfastness have been her mantra, as Anna wanted to offer emotional protection and support to her team of front-line staff- who had to be brave and bold in their daily roles. Unnecessary stress, drama and disruption was avoided whenever possible.
Rachel Bilsberry Grass – arrived at Muscular Dystrophy in July 2020 and has been virtual leader since day one. She knew the charity had some financial and staffing issues before Covid, and wanted the wider team to understand these challenges, but still be motivated to stay. Support from her senior team was immense, with many trained counsellors and therapists across the organisation, who reminded her to take care of herself as well as her team. The advice of her new treasurer – Martin Miles of British Heart Foundation –has been invaluable. "It's vital that you see the real side of your team members and stay vigilant when someone isn't behaving quite as they would – pick up on their tone of voice, carefully read their emails etc – to stay ahead of mental health issue. And try to mix things up, have meetings whilst walking the dog, meetings with children in the background – whatever works for you to stay.
Adrian Warburton, from WWF, rounded off the day with his personal view on the priorities for charities in the coming year, as we all return to a new version of normal.
"We're not going to return to the work in the same way that we used to, when the bulk of our time was spent five days a week at the same desk. There will be a big change in how we physically use the office – we need to consider how much office space is now required, change and update our processes and reporting methods, make the very best use of developing technology, and relearn how we all interact with each other again."
The Charity Financials Leaders Forum will return in Spring 2022. For speaking or sponsorship enquiries, please contact Suzanne Watts.