2019 has proven to be one of the most successful years on record for the investment returns of balanced discretionary charity funds. According to the latest quarterly report produced by Teknometry and the Charity Investor Group, the average annual return for the universe, now consisting of 1,296 charities, was 16.08%...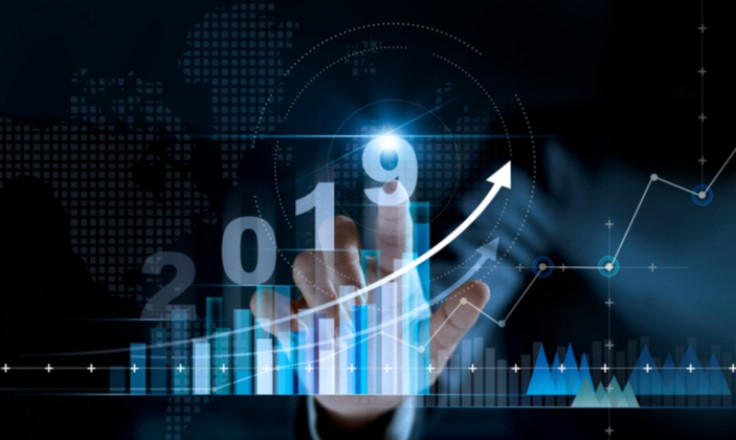 This is just a fractional outside of the largest recorded average return of the 16.14% achieved in 2013 and shows a significant bounce back from the negative returns of 2018, at -4.47%.
The chart below shows the rates of return (%) across the last five years:
Background
Teknometry began calculating the Charity Fund Universe in 2016. At this point, a precondition for the founding asset managers was to provide five years of back history of their returns. This means that Teknometry possess a track record of universe returns that date back to December 2011. In the eight years since, every £1000 invested on that date would now be worth on average £1902.35, a near-double value.
Analysis
So, what were the reasons for 2019 being such a good year? Which asset classes or markets excelled—and which underperformed?
In 2019 developed equity markets all achieved double digit growth. The US achieved returns in excess of 20% and charities with weightings in overseas equities, particularly those with a large exposure to the US, exceeded the returns achieved in other markets.
At the end of December 2018 there was an average weighting in equities of 67.97%. By the end of 2019, this average weighting had increased to 70.44%. Exposure increased during this period for both the US and UK equity markets, while exposure reduced in Japan and the Pacific Basin Ex Japan.
Over the course of the year there was also a reduction in cash reserves to accompany the increase in equities. There was similarly a decrease in alterative assets and a comparative increase in bonds.
As can be seen in the chart below, this change in allocation also had a positive impact on the returns that were achieved during 2019.
So why was 2019 such a good year for equities and the US in particular?
Across the last couple of years, the trade war between the US and China has threatened to engulf the whole world and has regularly alarmed markets. Signs that an agreement had been reached and that a deal was imminent in 2020 led to record highs being registered in all major US indices. At the same time, the mighty US tech companies — collectively known as the Big 5 (Facebook, Amazon, Apple, Microsoft and Alphabet / Google) — dominate these indices and all had an exceptional year. The future direction of the market will depend on how these companies continue to grow and innovate through invention or acquisition. Combine this with the interest rate cuts from the Federal Reserve and reductions in unemployment and this has led to increased business confidence and inasmuch, improvements in business spending and productivity.
While we all know the success of the US, not many will be aware that Russia has posted returns of over 30% for the year while one-time success story India could only notch up 4%.
Bond investors also enjoyed strong returns, particularly in regards to US Bonds with the greatest returns being achieved by "long-term core" bonds, as represented by the "Bloomberg Barclays US Aggregate 10+ years Bond Index" registering a 20% increase in return.
While share prices have soared, the yield from income has fallen. Over the year the average 12-month income yield of the participant universe fell below 3%.
What should we expect from 2020? Will equity markets continue to dominate or will the long "bull run" of the last decade come to an abrupt halt as many predict.
The consensus is that the returns of 2019 will be hard to repeat but that there is scope for further single digit increases.
Risks to the markets could come from a variety of political or unexpected events, some of which are listed below:
Impeachment of Donald Trump
The November presidential elections
Earnings growth needs to match company valuations
Conflict and unrest in the Middle East
Spread of the coronavirus flu virus
Climate change
The inverted yield curve could still be right
Natural catastrophes (earthquakes, eruptions, flooding and pestilence)
It seems opportunities for global equities remain positive, with expectations of improvement in 2020 for emerging markets. And, while climate change is a major concern, there are ample opportunities for companies with a desire to innovate to create inventions that reduce the carbon footprint. The shift from petrol to hybrid and electric vehicles is starting to gather pace. This momentum must be accompanied by investments and associated returns from renewable resources such as wind and solar energy and complimentary increases in battery and storage technology, if the energy industry is to meet the new demands.
Companies within these fields will grow as mature corporations seek to disinvest from their reliance on fossil fuels. The world's largest fund manager, Blackrock with assets under management worth over $7tn, has recently made a commitment to increase its sustainable assets from $90bn to $1tn within a decade.
Larry Fink, the Chairman and CEO of Blackrock said:
"Our investment conviction is that sustainability and climate-integrated portfolios can provide better risk-adjusted returns to investors".
This major shift to focus on sustainable investing will be followed by others and ensure that even if governments do not meet their responsibilities, the economic argument alone will mean that others will rise to take up the challenge.
The expectation is that interest rates will remain low or even cut further to boost growth.
In the bond market, 10-year treasury yields are expected to move back to around 2.3%. Opportunities could exist in emerging market debt or in high yield bonds along with the associated risk factors, but in the corporate bond market there are rising debt levels which could cause concern.
For the commodities market it is predicted that industrial metals such as copper will be in high demand and that gold will retain its reputation as a safe haven in time of turbulence.
Summary
Given the assumptions above, it is unlikely that 2020 will see returns as high as 2019. Expectations are for more modest, single digit returns and most charities would be happy with that scenario, at the start of the new and interesting decade ahead.