Waverton Investment Management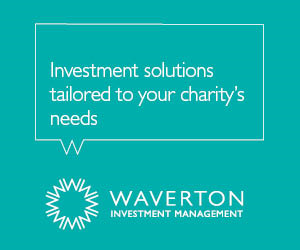 Company Profile
Waverton is a discretionary investment management house dedicated to creating high quality investment portfolios and providing a personal service for charities, private individuals, trusts and institutions.
We have looked after charities since our inception in 1986 and understand how to manage charitable investment assets in a prudent, pragmatic and flexible way.
A dedicated team and direct relationship
Understanding your unique requirements is at the core of our offering. Our charity clients deal directly with their portfolio manager, not a relationship manager, allowing us to deliver a trustworthy and transparent service. We pride ourselves on our personalised client service and comprehensive in-house administrative operations.
Long term performance
We recognise that long term performance is fundamental to charities wanting to preserve capital in real terms and produce income to sustain their activities. Therefore, we are focused on achieving one aim – generating superior investment returns for our clients. We attach huge importance to investing in what we believe to be the best ideas worldwide, be that in individual stocks, funds, fixed interest or alternative asset classes.
Ethical investing
Our investment approach is ideally suited to the application of an ethical investment policy and our team has extensive experience in this area; around 30% of our charity clients have an ethical, environmental or socially responsible overlay.
We would be delighted to have the opportunity to explain our charity investment services in more detail.
Waverton Investment Management Limited is Authorised and Regulated by the Financial Conduct Authority. Investors should be aware that the price of investments and the income from them can go down as well as up. Past performance is not a guide to the future. Investors may not get back the amount invested.